Being part of a wide community
The story of a company that has chosen to look beyond
Samuel Aleman, Group Sustainability Director
Diversity and Inclusion

community

well-being

value
Exchanging value to enrich each other
The year 2017 was a very positive year for our Company in Spain in terms of topline growth and overall positive results. With the team's hard work and dedication, sales grew by 6,4% vs. budget and 13,5% vs. prior year's. To commemorate this achievement, the team normally enjoys a nice dinner to have a well-deserved time off and opportunity for all to mingle across departments and business sectors.
During holiday season of 2017 we came across the great work that Fundación Síndrome de Down Castellón does in our community. They help people with Down syndrome in Castellón regardless of age of life situation. They provide learning spaces, vocational training and jobs for this community which give them a great sense of belonging and an opportunity to form friendship. All of this completely free of charge, in the name of being a responsible community stakeholder. Immediately we knew that we, as a member of our community, should find a way to help somehow.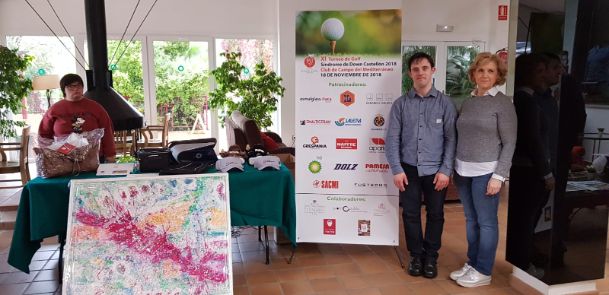 As we didn't have any budget funds appropriated for such social work, the entire team supported the idea to use funds marked for the dinner celebration supposed to take place in January 2018 to support the Down Syndrome Foundation instead. It was a great moment of unity and engagement for us all. We used those funds to co-sponsor their annual golf event in 2018, participating alongside many of our Castellón partners in the ceramic industry. The event was both a great societal initiative and relationship building opportunity.
In 2020, as Spain ended stay-at-home mandatory confinements and returned to work, we have implemented several changes to our offices leaving some areas such as reception completely transformed thanks to new protocols and implementation of new technologies. We decided to contact the Down Syndrome Foundation again and donated several office furnishings such as table and filing cabinets. Additionally, we decided to participate in this year's Golf Tournament by co-sponsoring, alongside some of our most collaborators in the ceramic industry, that event which will take place in September 2021. We will also engage with the Foundation to use their product catalog as part of our annual holiday gift program.
We started a path almost by chance, without a big budget ,only driven by the desire to contribute in some way: this journey is continuing enriching each of us.
Our community's strength and resiliency is our own!